Jake 'Hake' Jalapeno and 'Tabasco' Tony want to make supper for you and ten of your closest friends!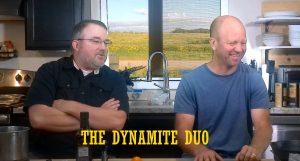 Here is how it works: you host a party inviting up to 12-16 people and hire the Dynamite Duo to make the meal in your own kitchen. The Dynamite Duo will cook it up right in front of everyone, spicing up the event with a touch of humor and a big helping of education. At the end, everyone eats!
As much of the food as possible will be prepared from produce grown right on the Dynamite Harvest farm, free of chemicals, pesticides, herbicides, and other nasties.
Cost: Somewhat negotiable, but consider that a couple might spend $50-$80 if they ate out at a restaurant, and that should give you a ballpark idea. And remember, if you eat a restaurant, all you get is the food. If the Dynamite Duo is doing the cooking, you get the event!
Location: Your kitchen. If you pay travel expenses, we'll come to wherever that is. Dynamite Harvest is located in Wisconsin, so you might be able to work out for yourself what those travel expenses might be.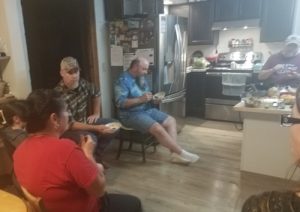 Included: THE FOOD. The fee includes the meal and all the fixings!
The Content: When you bring the Duo in to be your contract chefs, you get a nice meal, to be sure, but its intended to be an educational event, with some mirth thrown in. We drizzle on top tips on how to prepare and eat freshly grown produce, and attendees leave with the recipes for the very meal they ate during the event.
More information below the video…
About the Duo: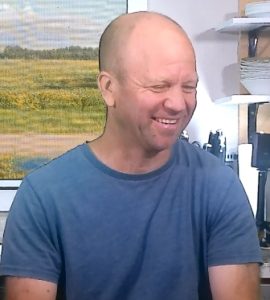 Jake Jalapeno is the mildly attractive half of the Dynamite Duo. His passion for food has led him to be a poet, author, speaker, farmer, and instructor. Previously, Jake and his wife, Mrs. Jalapeño, operated their own farm called The Garden of Weedin'. He also worked as an Urban Farm Manager and Culinary Coordinator for Nourish, a non-profit food education organization in Wisconsin. Jake enjoys spending time with his wife and their 5 little "poppers". He loves board games, sports, the outdoors and has an unbridled passion for pencils, which he will gladly talk about. These days he is managing Dynamite Harvest Farm in Greenwood, Wisconsin.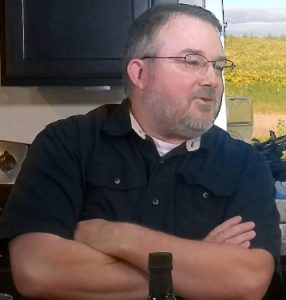 Tabasco Tony is the both the fuse and the stick of dynamite, delivering jokes that burn and laughs that blow up in his face. He is an author, a publisher, an entrepreneur, and–most importantly–happily married for 25+ years with four kids. All adore his punch lines. He is the owner of Dynamite Harvest, a produce farm in central Wisconsin that grows a wide variety of naturally-grown food. Tony is like an onion: the more layers you peel back with him, the more you want to cry. He enjoys pairing every dish he eats with a good, old-fashioned hot pepper, which explains the 20+ varieties of peppers grown on the farm.
Are you ready to book the Dynamite Duo?
Submit the form below or email us at tntharvest@gmail.com!