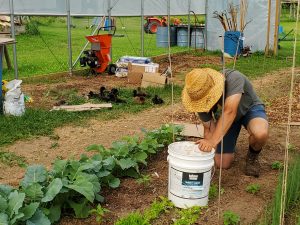 We grow hot peppers, hot garlic, and tomatoes and potatoes to dull the painful pleasure from all the hotness.
And sure, we grow some conventional stuff, too.  Check out our pics of our salad, potato plants, and radishes, below.
We don't just have produce.  We've got chickens, and ducks, too.   We are gearing up to provide wide-spectrum 'food security' and hope you will join us.
Our website is new, so give us a little bit to get it spiffy!