Our program is winding down for the year but we are already looking ahead to next year!
One change we will make is that we will start weighing the produce, just to give us a better idea how much produce is being donated. We estimate that most of the donations to this point have come in at around 8 to 10 pounds. This last batch, however, averaged 15 pounds. When you have squash and potatoes harvested, that's what happens!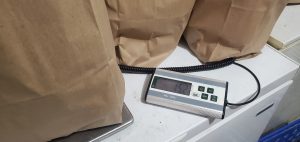 I discovered this week that GiveSendGo shuts down your fundraising campaign after it hasn't been used in awhile. I can, naturally, start another for next year. Rather than go through the hassle, I'm thinking of just using the Dynamite Harvest 'product' page to take donations. However, I know that some people are interested in the tax deduction, which they can get if they support the program through the Athanatos Foundation. In the coming months I'll get that set up. If you prefer GiveSendGo, please reach out to us to let us know. Feedback/questions/comments/etc can be sent to tntharvest@gmail.com.
As of our most recent delivery of produce, we have delivered 82 bags of produce to about 26 women. People donated about $3,000 to the program this year, and as of this delivery, the value of all the bags delivered is $3,056.
Jake and I are working on setting up 'cooking lessons' at each of the centers this fall. The directors of the centers have told us that the women have appreciated receiving the produce. We are looking forward to meeting some of them personally. Hopefully we'll get lots of pics and maybe some video out of those meets.
We appreciate folks who have already pledged for next year. This is very helpful information for us to have when planning for future years. Let me go one step further and ask you to also spread the word about the program. As mentioned in previous updates, there were more than a few things we wanted to do this year beyond what we did. At minimum, next year we'd like to raise enough to get all the way through the season.
Thank you all for supporting this program! It would not have been possible without you.