I, personally, thank the good Lord for the rain we received over the weekend. It was sorely needed. While I don't feel that anything in the fields was in danger of being lost due to lack of moisture, I could tell things were thirsty.
1 cup grated Parmesan cheese
3 Tbsp. fresh lime or lemon juice
1/4 lb. scapes
1/2 cup olive oil
Salt to taste
Puree scapes and olive oil in a food processor until smooth. Stir in Parmesan and lime or lemon juice and season to taste. This pesto can be used on pizza, pasta, sandwiches, roasted vegetables, in soups, eggs, breads, and a myriad of other dishes.
The produce we have this week:
Strawberries (probably the last week for them!) $5/qt
Head lettuce $2/each
Basil $3/bunch
Garlic scapes $4/lb
Kohlrabi $1.50/each
I hesitate to say what will be coming in soon because weather and animals have made it very hard for me to reliably predict, BUT…I will try anyway. Maybe, most likely, there is a chance, possibly, 73 % certain, that we might have coming in soon…(I think)…Carrots, beets, broccoli, cukes…(I am relatively certain)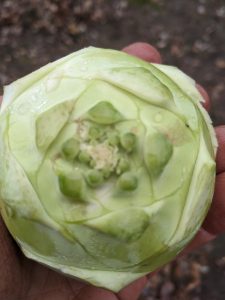 Jake Jalapeno