Greetings from your local Greenwood Growers!
The dandy picture below is of a head lettuce called Merlot. It is such a beautiful shade of red that it almost seems more like a flower than a lettuce.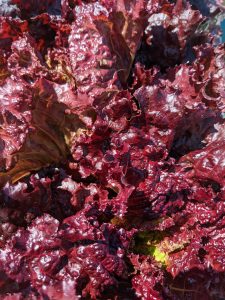 One cannot complain about the weather this summer: cool, breezy, and best of all, no mosquitos so far.  Of course, some crops prefer it warmer and others cooler, so no matter what the weather, it is good for some things.
Work this week has included transplanting some strawberries to a new location for next year, thinning out some beets and carrots, planting some more beans and lettuce, mulching, fertilizing some plants that were looking weak, weeding, weeding, and weeding.
We are just starting to see the first pickings of carrots, peas and beans. Hopefully by next week we can offer you some. However for this week we can offer:
Head Lettuce – plenty of it!
Basil
Swiss Chard
Scallions
Zucchini
Message us if you are interested!
Next week we hope to be able to offer:
Beets
Carrots
Peas
Beans
Zucchini
Cucumbers
Lettuce